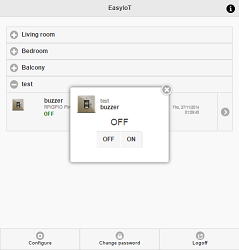 EasyIoT server v0.4 is released. New features are:
new MySensors driver datatypes - added S_LIGHT and V_LIGHT. Now it's possible to send commands to MySensor node
new Raspberry GPIO driver. Now you can monitor/control Raspberry Pi GPIO digital inputs/outputs. Read tutorial how to use GPIO driver
small fixes
If you upgrade from previous version clear WEB browser cache or app will not load correctly.