We reach our goal and build EasyIoT framework with standalone EasyIoT server on Raspberry Pi or computer. But can things be more simple? Is it possible to simplify architecture and build IOT in couple of minutes?
Can things be simplified? We ask those questions many times and found solution. If we look at community forum on this site we see many questions about installation process for EasyIoT server.  If local server is moved in cloud, then things can be much more simple. No more problems with EasyIoT server installation and no problems how to configure local network to access server from outside.
Second big improvement is regarding to data types and widgets. Current EasyIoT server uses predefined data types (properties) and widgets. This is somehow limitation of current framework and can be improved to be more flexible.  
So we decide to make a step further and design EasyIoT framework II. Main features and improvements are:
Privacy - data will stay yours. Your data will be visible to you and only you for your username and password.
EasyIoT Cloud - cloud solution, no need for local server. Just connect sensor to our EasyIoT Cloud. More or less all functions of EasyIoT server will be ported to EasyIoT Cloud. It will also support "plug and play".
Simplify data types - there is no data types. Type of widget will determine how data are displayed in user interface. That way framework is more flexible.
Widget customization - There will be less predefined basic widget types with option to build your own widget type. That way you will not be limited by predefined widget types. If you have special requirements for widget you will be able to build your own widget. That way framework is more flexible.
Standardization - basic communication protocol will be MQTT.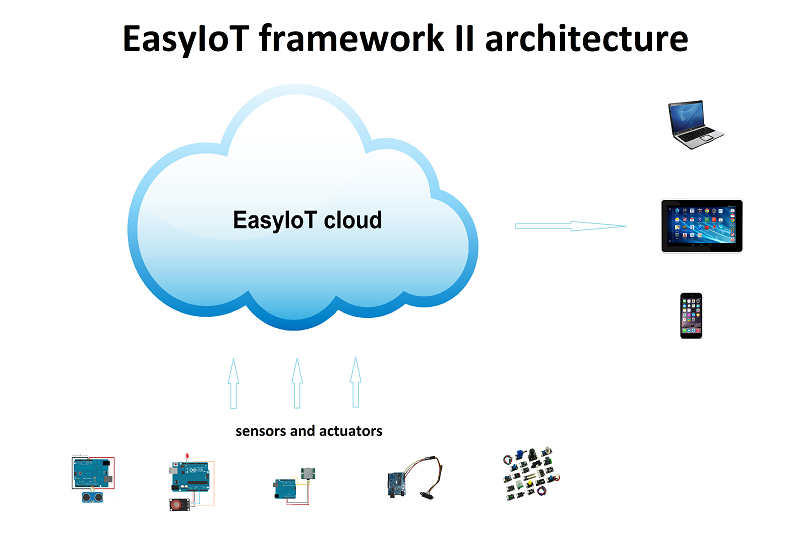 EasyIoT Cloud service is in testing period so please be patient if you experience any interruptions. In testing period EasyIoT Cloud service is free of charge so you are welcome to try it out. Later we will provide subscription service. Of course as we promised EasyIoT server will stay always free of charge for non commercial use.